Technology in Laundry has progressed from barcode to RFID
Views:5 Author:Site Editor Publish Time: 2017-05-23 Origin:Site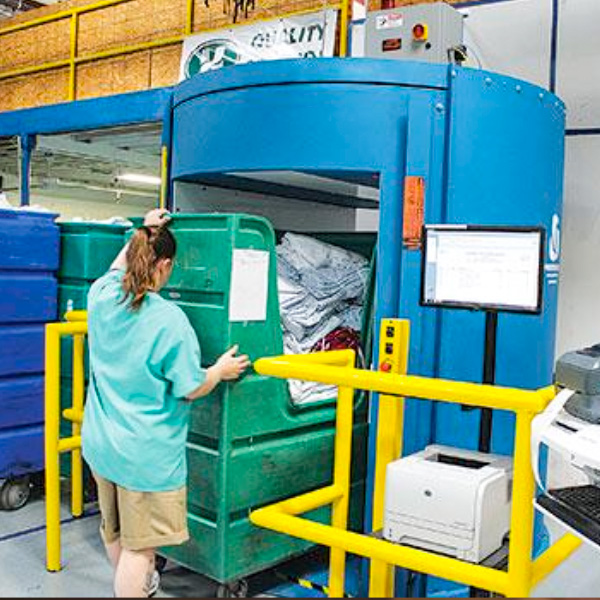 Laundry and linens services randomly disappear when you least expect it. These products are used daily and then you look again and they are gone! This mystery has been solved with new technology that keeps an eye on these as well as giving you other benefits.
Radio frequency identification (RFID) can now provide commercial laundries a way to track these textiles and bring great convenience to laundry management, such as clothes dry cleaning and towels dry cleaning.
RFID is being used to track all sorts of items including, but not limited to, uniforms, scrubs, flat linen, terry, microfiber product, mats, tuxedos and more starting with the customer back to the plant, then back from the plant to the customer,"says Jeff Markman, president of Positek RFID.
When looking for visibility for inventory, RFID is the answer, he says. Where is the product? How long does it reside all the way through the process? How long does product last before it needs to be removed? Which
Laundry and linen services industry has been using RFID for some time now, according to Markman. The industry has seen the technology start in the low frequency (LF) at 125Khz to high frequency (HF) at 13.56 Mhz to ultra-high frequency (UHF) in the 900Mhz range.
"When we see frequencies change/enhance, the applications change along with it," Markman says. "In the LF and HF world, the RFID tags were small, hardened and round. The read ranges were 6 to 18 inches and went from single-read to multi-read applications.
He says the trying to read bulk products effectively and efficiently was very difficult. Then in 2010, UHF came to market. "This new UHF frequency required a change in the format of tags to a rectangular shape," says Markman. "UHF tags have read ranges of 10+ feet and read 10 times as fast as the latest HF tags."
This new frequency allowed for quick scans of bulk items and the opportunity to develop solutions to read bulk items in carts, bags and slings. This allowed for a much improved garment solution, according to Markman.
Early on, adding RFID to products was considered an alternate, more modern version of a bar code, Sloan says. But that is just the beginning of what RFID can do. Increase in productivity is caused by a much faster count cycle."RFID development takes me back to the Internet browser days where Microsoft and Netscape had many releases that fixed previous issues and pain points while giving the user new features, he says."
Multi-reader UHF tag accountability in regards to "chain of customer" of a product is easy to get, says Sloan. Laundries are able to track what is in-plant and where, as well as out-of-plant by route, customer, item, and for how long. Efficiencies gained with inventory control, making sure laundry and linen services have the proper linen level in stock, production and out in the field.
"Also, RFID costs have dropped to a point where the customers of laundries are starting to tag items and performing very similar tracking of how a laundry is returning and what was sent," says Sloan.
RFID tags come in all sorts of different sizes and shapes for many reasons, but the basics of how a tag is scanned and what information is gathered is effectively the same, according to Sloan.
In regards to tracking, there is no difference in how the scanning happens. However, there are basic business processes that are different in what a laundry does when the tag is scanned, according to Sloan.