RFID Tags and RFID Library Management
Views:25 Author:Site Editor Publish Time: 2018-02-06 Origin:Site
RFID means Radio frequency identification i.e. the technology that uses radio waves to automatically identify individual items. The objective of any RFID system is to carry data in suitable transponders, generally known as tags and to retrieve data, by machine readable means, at a suitable time and place to satisfy particular application needs. RFID is one of the most technologies being adopted by both industry and academic world.
Modern academic library is a place where millions of books advanced, periodicals, CDs, DVDs and other electronic reading materials are contained. It is a challenge to manage for librarians, managing such type of huge collection. RFID technology is in use since the 1970s. RFID tag is made of RFID wet inlay can be passive, it is a small device that can store information, and the RFID passive tags don't have internal batteries. RFID reader is a device that can receive and transmit a radio signal. It is built to encode data stored in the tag's microprocessor. Because of the higher cost, active and semi-passive RFID labels are used for valuable asset tracking. The passive RFID tags are used in RFID library management systems.
RFID library management, using RFID tags library, is easy and convenient. A RFID library management system consists of books, each attached with an RFID tag, RFID reader, computer network and software. Library staff handle lending, returning, sorting, tagging etc. of books, using RFID tags in this library system. A person can locate RFID library books marked with a RFID tags, using the RFID reader which identifies and locates the book. When the book is carried to the counter, the library staff can either activate or deactivate the electronic article surveillance bit in the book's tag. If a book is borrowed, then the surveillance bit is deactivated.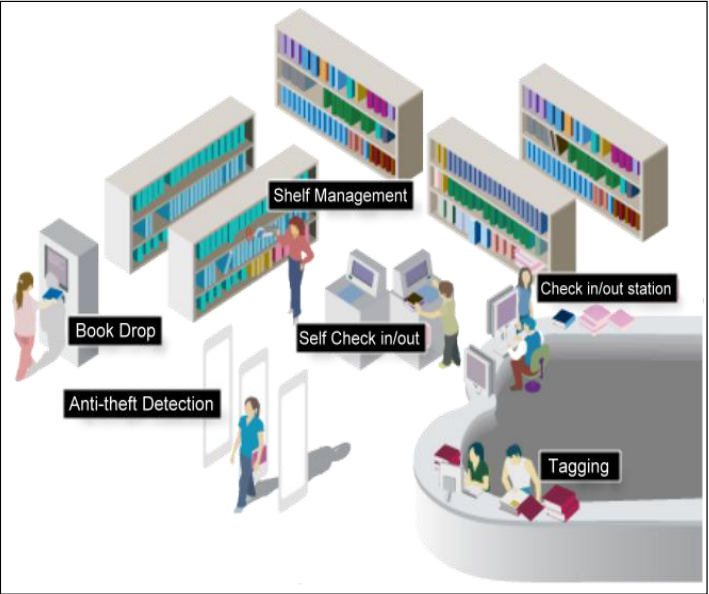 Using RFID tags in libraries saves library staff's time by automatizing their tasks. An establishment that uses RFID library management saves a book reader, precious time that he would have been spent, waiting for his turn in a queue for borrowing or returning a book. Taking care of books and making them available to the book readers are important tasks. Most of the library staff's time is spent in recording information of incoming and outgoing books. Borrowing and returning of books can be fully automatized with the help of self check in/out systems. This system involves installation of special software. A person using this system to borrow books, is presented with options on a computer screen. The person has to identify himself with a code, which is preferably a personal identification number, or any form of unique identity code. Books selected by the person are identified by the system's built-in RFID reader. And, the surveillance bit in the book's RFID tag is deactivated by the system. When a book is returned, the check in/out system activates the surveillance bit.
Sunorient offers almost all the RFID tags which is made of Wet RFID Inlay and Dry RFID inlay on the market. We are continually updating and adding RFID products to our website. If there is a particular wet RFID inlay you are searching for, but cannot find, please contact us as we will likely be able to provide it for you.