RFID Glass Tube Transponder For Animal Microchip
Views:1 Author:Site Editor Publish Time: 2018-08-06 Origin:Site
RFID glass transponder is widely used in pets, fish, police dogs, wild animals and other animals. And it could record a range of the animals' activities, or diet, and so on. Some fish and other meat on the market today are tracked throughout the process.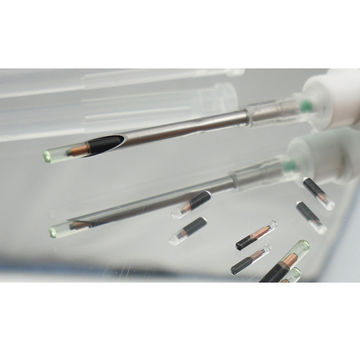 RFID syringe contains the syringe body and RFID glass transponder, which specially designed for tracking of pet, management of animal raising and butchering. It meets the international standard of animal identification. It is designed and produced with the super RFID chip from Microelectronic and it has both read and write functions, and also has a unique design of data security.
RFID Microchip also known as a transponder, is about a size of a grain of rice. The transponder which is coded with a permanent code, is implanted under the animal's skin for identification purpose. Using Radio Frequency, the animal can be identified by using a RFID scanner.
Standard units are enclosed in biocompatible glass, making them harmless to animals. The optional parylene coating improves and accelerates tissue adhesion, preventing the movement of tags implanted subcutaneously into pets, fish or laboratory animals.
Larger Glass Tag transponders are ideal for cattle, sheep and goats. The tags help optimize livestock production and productivity through individualized lifecycle management, monitoring and feed control. For tracking birds, small Glass RFID tags are embeddable in bird rings or bands.
Key Features
1.Unsurpassed quality - fully automated manufacturing and direct-bonding technology ensure RFID tag reliability
2.Optimum operation - the highest out-of-box performance ratings in the industry, with no line-of-sight requirements
3.Practically limitless options - choose from a broad range of standard sizes and integrated chips, or customize to fit any application
Regarding to the more RFID tags information, please visit our website Sunorient.