NFC Tag for Wristband in Entrance Guard
Views:13 Author:Site Editor Publish Time: 2018-06-27 Origin:Site
New NFC function, the user as long as the hand hand ring close to the card reader, you can easily unlock door, great convenience to people's life, and do not need bright screen and connect mobile phone can be used, even if the bracelet without power, still can brush entrance guard.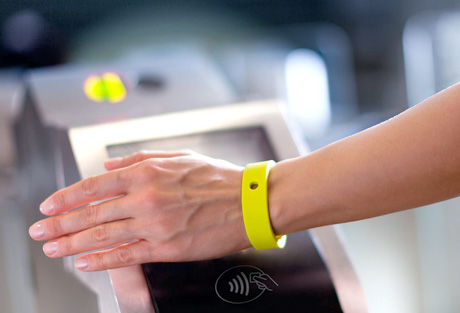 NFC wristbands is a special type of nfc products that is designed for wrist wearing. It combines nfc's advantages with human engineering. Its creative profile makes it distinctly good when using it in easy-to-use environments, such as hospital, theme park, event and sports.
NFC wristbands are a form of NFC tag that can be worn around your wrist. We currently have two types in stock with a Velcro strap and an alternative with a beaded fabric strap. This type of NFC tag is typically used for personal identification or for sharing social or business details. They are very useful for events, exhibitions and loyalty schemes. We manufacture these to be very strong and robust so they can be used in most situations including for runners and athletes at events.
Some are blank for you to put your own images and stickers on and others have our standard NFC enabled logo. Our current range is aimed at reuse rather than one off usage.
We manufacture all our NFC Wristbands and everything in this shop is available from stock, but we also manufacture bespoke printed NFC Wristbands and NFC tags to meet individual requirements in terms of large volume, shape, type and printing. Please contact us with any bespoke or large volume requirements as we have over 17 years experience of producing high quality and very large volumes of NFC wristbands, NFC tags and NFC Stickers.
All NFC products, like NFC wristband,anti-metal NFC tag, plants NFC tag, NFC smart card, you can contact us by an time.