5 Awesome Ways to Use RFID NFC Sticker
Views:2 Author:Site Editor Publish Time: 2018-06-29 Origin:Site
Now everyone has own phone, but many people have not yet realized the use of NFC on mobile phone. The article will tell us the use NFC sticker on phone.
Do you have an Android phone. If yes, chances are you have a feature you haven't really unlocked its full potential: Near Field Communication (NFC). This is a technology within your phone that allows transfer of data between two electronic devices. This can mean communication between your phone and another phone. Or NFC stickers. This is also the same tech used to pay for items by tapping your phone on the credit card machine. NFC tags are small chips that can be programmed (using apps such as Trigger or NFC Tools) to interact with your phone. Using these tags, you can automate your mobile device. With a quick tap you can command your phone to do many tasks that can be anywhere from simple volume adjustments to complicated multi-step functions. Here are 5 of the best ways to use those RFID NFC tags.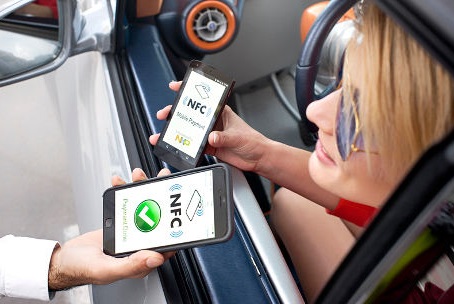 1. Send a Text Message/Email
Does someone always want you to text them when your home. Set up an NFC tag to take the work out of it! Pre-write a short text message/email and have it sent to a specific person when you tap your phone on the tag.
2. Change Volume Level
Are you constantly switching your phone from sound to vibrate/silent when going from home to work or sleep. Place a programmed NFC tag on your work desk/night stand that kills your volume. No more waking up in the middle of the night from an annoying email notification!
3. Open Up and Add to a To-Do/Grocery List
Always taking the time to scroll through all of your lists to find the right one. Use an RFID NFC tag near the fridge/pantry to open up your grocery list. You can even program it to add an item to the list. Place a tag near an item that is constantly running out. Then just tap your smart phone on it to add the item to the list!
4.Get Instant Up-to-Date Traffic Information
Place an NFC tag on your car dashboard and program it to open up your favorite traffic app (and maybe even have it read to you). Set it up with Waze and get up-to-date information on accidents, police locations, gas prices, hazards, and more. Never be late because of traffic again!
5. Automate Your Home
This one is a bit more complicated as this requires some external tech that connects your home and smartphone (there are several cheap options, however). If your home is already set up for this, it's simple! Program the NFC tag to adjust your thermostat when leaving, prepare coffee in the morning, turn on/off lights, or even lock/unlock doors. Place it by your door and no more forgetting to do something when leaving the house!
As the NFC sticker manufacture, we have other RFID tag, smart card, anti-metal tag,animal tag and so on. There five points as reference, if you have needs, please contact us by any time.